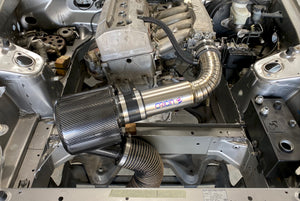 The Origin Fabrication 90S Intake System is designed to provide maximum quality and power with minimum weight and IATs.  Simply put, this is an intake system for your S2000 that forgoes compromise. Fitment is available for both 00-05 and 06-09 model years of S2000 and in natural or burnt finish on our titanium arm.
When designing the 90S intake system we started with a substantial, in-house fabricated 3.0" to 3.5" intake pipe that meets the demands of just about any S2000 motor. To keep IATs as low as possible, a lightweight carbon fiber airbox is included that contains a low restriction, high filtration ITG foam air filter and ducting that routs to the inside of the fender well via an included bracket.
In addition to being larger in volume and lighter than most intake systems on the market, the Origin Fabrication 90S system comes with market leading fabrication quality and specific mounting points for both the airbox and hose ducting that attaches to factory locations, making for a simple and painless install. Air duct mount is not compatible with OEM air pump lines.
Each intake system includes:
* 3.0" to 3.5" intake pipe in natural or burnt finish
* Carbon fiber intake box
* ITG Foam air filter with 3.5" outlet
* 4" Diameter neoprene ducting
* Silicone couplers and clamps
* Brackets for airbox and ducting that utilize OEM locations